Serving the tastes of Texas since 1946
Blue Ribbon sausage and bacon products have been a part of Texan gatherings since 1946 when the first Blue Ribbon sausage processing plant opened on Cullen Street in Houston, Texas.
Texans were quickly drawn to our flavorful, naturally smoked products inspired from German recipes and tweaked to make them true Texas originals. Our products have always been crafted in small batches and smoked over hickory, mesquite or apple tree woods to ensure an authentic flavor and quality of product that Texans trust and enjoy. Because being the "real deal" is a big deal to us, we use only natural casing for our sausage products and our premium bacon is cut thick and smoked to perfection.
We're also proud of the relationships we've forged and fostered over our long, proud history with our customers and grocery distributor partners.
It is our promise and guarantee to both to deliver the highest quality, best-tasting sausage and bacon products.
Because that's just the right, Texan thing to do!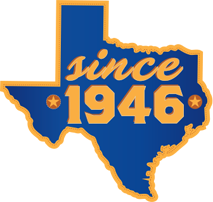 1946

Blue Ribbon Sausage processing plant opens on Cullen Street in Houston, Texas.
1950s
Blue Ribbon begins relationship with Houston Livestock Show & Rodeo. Relationship is going strong today!
1986
Blue Ribbon sausage begins being crafted in small batches in New Braunfels, TX. Still smoking under the Central Texas sky today.
1986

Blue Ribbon introduces Premium Thick Sliced Natural Hickory Smoked Bacon.
1988

Blue Ribbon hires legendary football coach and Texas icon, Bum Phillips, to endorse Blue Ribbon products. Blue Ribbon bacon and sausage gains notoriety as "Bum's Favorite"
1994

Blue Ribbon refreshes logo to reflect its rich heritage by adding "Since 1946."
1996

Blue Ribbon begins using tagline "It's a Texas Tradition!"
2008

Blue Ribbon introduces Texas Traditions Premium Sausage.
2010
Blue Ribbon is the preferred sausage and bacon of the Houston Texans.